Well it doesn't take much for me to find a reason to buy toys for my favorite hobby. I have been
on the hunt for a small, light and affordable ice fishing shelter for quite sometime now. My biggest concern was getting out of the wind itself. When you are out on the ice for an extended period of time it is always the wind that get's the best of you. The problem I have been having is that most ice fishing shelters are fully enclosed with nothing more then a few small plastic windows to see out. I didn't drive an hour from home to a small pond out in the middle of nowhere at 5:00 am on a Saturday to sit inside a small cube all day cut off from nature and good company. Little did I know the answer would come from the 1970's.
I was checking out a local fishing site and found, in the for sale section, a Frabill "Ice Shuttle" ice shelter. It is a simple yet ingenious design that was built, so I have heard, over 25 years ago. It is a sled to hold your gear, a shelter from the wind and a comfy seat all in one! I have used for years a
Jet Sled
which to this point was working well. The only issues were having to strap all of my gear down with bungee cords and not having a room for a bait bucket. Also this did nothing for any kind of shelter. The "Ice Shuttle" has all of that and abit of uniqueness to it.
It is a super light plastic sled with a molded bucket holder, plus a hollow inside to store your gear in.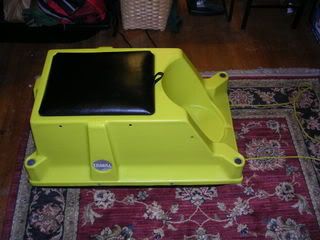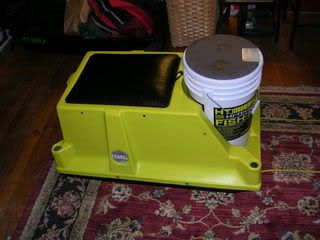 Just remove the seat and you have quick access to your goodies.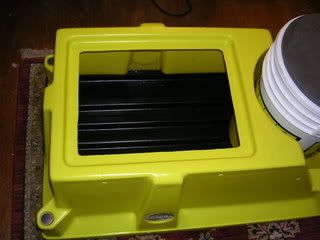 There are four collapsing poles that fit inside as well. Expand them and slip on the wind break and you are free from the brisk winter winter winds.
Heres a back view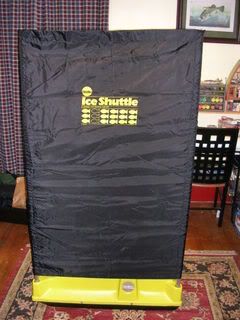 All in all I am very happy with this find. I hope to keep it on the ice for many seasons to come!